Print: The L.A.Times stumbles into the future
"The Manhattan Project," LA Observed's Kevin Roderick comments, is not da bomb. The Los Angeles Times' soul-searching won't do much to change the fishwrap's grim prospects. Roderick argues the current staff is ill-equipped to pilot the hulking old-media ship down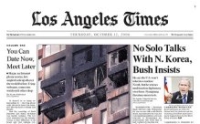 new-media channels; editor Dean Baquet is out of touch -- he came up at the NYTimes and isn't trained for the kind of street-level journo we need in L.A.; besides, he should already know what his readers want -- that's his yob!, for pete's sake; mission-hunting by committee is useless; publicly announcing the group therapy sessions was dumb -- articles in the press make it sound like the project was dreamed up by The Onion; and naming it after the 60-year-old effort to build Little Boy makes the paper look even more ridiculous than usual.
Kevin Roderick: LA Observed (several stories, scroll around).
Mack Reed's advice to the LAT: LAVoice.Org.