The New Amore Bay Makes Outdoor Spas Hot and Sexy Again
Seductive Combination of Ultra-Modern Technology and Good Old-Fashioned Sex Appeal…

Warm Contact Induces Release of the "Cuddle Hormone"
(SAN DIEGO, CA) Dimension One Spas' just-released Amore Bay
luxury hot tubs
– retailing for between $15,000 and $17,000 -- combines the pleasure principle of the 70's with ultra-modern technology to get down to the basics: today's hot tubs can be sexy and high-tech…and a secret tool to help melt away your lover's defenses.
With curvaceous lines, strategically placed water jets, mood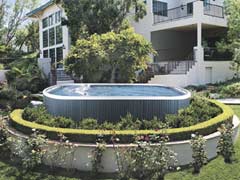 lighting, a "playground" area, a hand held massager and cup holders, the only thing left to do is download Barry White or Marvin Gaye on the Amore Bay's wireless, iPod-friendly stereo!
But could such a watery Shangri-La really help your sex life?
According to findings in a 2005 study by the Department of Psychiatry, University of North Carolina at Chapel Hill, "warm contact…and frequent hugs between spouses/partners caused oxytocin levels to rise in premenopausal women." So, any warm contact boosts oxytocin – known by sex researchers as the "cuddle hormone."
This
mammalian
hormone
also acts as a
neurotransmitter
in the
brain
and is involved in social recognition and bonding, and is thought to be involved in the formation of trust between people. Some researchers have also suggested a beneficial link between oxytocin and social anxiety, memory control, cardiovascular functions, and thermoregulation in menopausal women.
Did someone say, 'Sexual Healing!'?
An irresistible backyard oasis, the Amore Bay also features his and her "hydronomically" designed, lounge chairs lined with massage jets, relaxing fountains, a remote control to select your underwater massage programs and a sleek, energy efficient design with average heating costs of only $15.00 a month (subject to individual heating costs). This year, couples can just relax and "Get their Sexy Back" in an Amore Bay!
About D-1 Spas: With high tech and design innovations reminiscent of each year's developments in the automobile industry, this award-winning, California-based hot tub company holds over 30 patents, more than any other hot tub manufacturer.
The family-owned, $60 million a year business is known for introducing advances in materials science and water handling technology to bring customers the most advanced spas in the world.
Founded in Vista, California by Bob and Linda Hallam, D1 spas and aquatic fitness products are now sold through a network of more than 250 dealers in the United States, and 450 dealers worldwide in 30 countries. The company's three product lines include a range of
home hydrotherapy and aquatic fitness
products that meet a variety of consumer needs and budgets: D1 Reflections®, D1 Bay Collection®, AFS -- Aquatic Fitness Systems® and @ Home Hot Tubs®. Innovations include: hydronomics -- design based on human anatomy, ergonomics, acupressure, reflexology and fluid mechanics -- a wireless, totally submersible hot tub stereo system; a spa-within-a-spa lounge chair aqua massager; clean energy systems; and patented fountain & lighting systems.
For more information about Dimension One Spas, its products and practices, please visit:
http://www.d1spas.com/
.
Labels: high-tech, hot tubs, outdoor spas, sex life, sexy